Jane Goodall Visits QSI International School of Chengdu
By James W. Pilton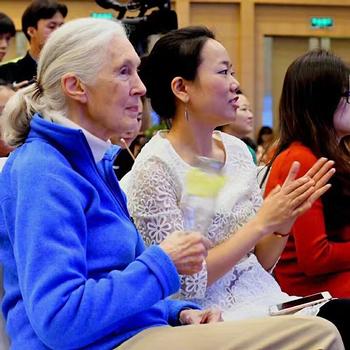 The year 2016 marked a special milestone for Jane Goodall's global Roots & Shoots program. It has been 25 impactful years since Dr. Goodall first assembled 12 teenagers in Tanzania for what would very quickly become an icon of goodwill and community service. Dr. Goodall's infectious approach to creating a culture of caring for all living things spread globally over the following years, reaching Chengdu eight years ago. QSI International School of Chengdu was the first officially recognized member of Roots & Shoots in Chengdu, China.

Even though the school's first few years were riddled with red tape issues, we eventually managed to break down barriers and create wonderful relationships with local charities, schools, community centers, special needs groups, and more. Our QSI-Chengdu Roots & Shoots mission is to foster respect and compassion for all living things, to promote understanding of all cultures and beliefs, and to inspire each individual to take action to make the world a better place for people, animals, and the environment.

All QSI-Chengdu Roots & Shoots members demonstrate their care and concern for living things through service projects in their communities, and on a global level. As one QSI-Chengdu student, Mya Banek, put it, "Roots and Shoots is a big organization at my school that everyone is a part of somehow. They get involved by seeing their friends do amazing things. [Roots & Shoots] not only teaches the adults how to start treating the Earth better, but it starts to teach the younger generation and help them get involved with this program as well."

We take great pride in being the only international school in Chengdu with a Roots & Shoots program and work hard to continue to carry that mantle. Over the years, our student members have collected and handed out rice and oil to local families struggling to find a meal in the cold winter months. They've purchased and delivered books and other school supplies to a school still recovering from the 2008 earthquake.

Our students implement positive change through actively learning about, caring for, and interacting with environmentally-minded organizations whose goal it is to clean up our local waterways (Chengdu Urban River Association) and protect threatened Chinese fauna, such as the Asian Black Bear or Moon Bear (AnimalsAsia).

Another student, Hope Knutson, reflected on her time with QSI Roots & Shoots by saying, "I like being a part of Roots & Shoots because no matter what we do… we can go travel on a super small bus with 20 other kids across the country to help a school, or stand in a booth selling things to raise money… whatever we are doing in order to help, it also ends up being loads of fun for everyone."

On a larger scale, QSI-Chengdu Roots & Shoots has undertaken a few awareness and fundraising events that have drawn the attention of the greater Chengdu community, as well as a bit of national attention. Our Live Aid Nepal fundraiser concerts have brought in upwards of 200,000 RMB (approximately US$30,000), while our Earth Day celebration gained the attention of Patrick Haverman, UNDP Deputy Country Director of China, who delivered a video message to personally support the event at QSI International School of Chengdu.

To reward their countless contributions, QSI-Chengdu Roots & Shoots members were invited to attend a public lecture by Dr. Goodall where she spoke about her Five Reasons for Hope for the future of the planet. Her #1 reason rang most true for our small organization here at QSI-Chengdu. Dr. Goodall said she was hopeful because of "the energy, commitment, and hard work of young people once they understand the problems and are empowered to discuss and ACT upon solutions. Which is why I devote so much time to developing our youth program, Roots & Shoots … They choose the projects they are passionate about, roll up their sleeves, and take action. And so many adults, who have been Roots and Shoots members, remain committed for life."

In response to Dr. Goodall's moving words, another QSI-Chengdu student, Young Seo Kim, said, "This shows Jane Goodall has hope for all of us to learn to live in better harmony with nature. There are a lot of problems, such as air and water pollution, that make animals die and go extinct more quickly. You should be eagerly interested in the environment and excited about some changes in the world. You can reduce, reuse, or recycle something to protect your environment."

As part of the 25th anniversary celebration, QSI-Chengdu Roots & Shoots was presented with an Outstanding Group Award for our many contributions over the past seven years. Additionally, our students were invited to perform an original composition for Dr. Goodall, and the approximate 200+ guests in attendance. It was a humbling experience to meet such a determined, focused, unstoppable, good-hearted individual as Dr. Jane Goodall. Standing with Dr. Goodall reaffirmed everything anyone who has ever been a part of our program has worked toward. QSI-Chengdu Roots & Shoots carries this message very close to its heart, and hopes to inspire other schools to do the same, just as Jane has done for us.
---
Please fill out the form below if you would like to post a comment on this article:
---
Comments
06/21/2017 - Melissa
What a wonderfully inspirational article! I hope this powerful example of supporting life and the environment continues to spread in international schools everywhere. 7 years well done.
---