A student's innovative strategy to raise awareness about pride month within the school community. (Photo source: Holly Erwin)
----------------------------------------------------------------------------------
At Utahloy International School Guangzhou, I wanted a way to raise student awareness on important social topics. The goal was to learn and educate others on global issues by posting a monthly bulletin board covering relevant issues. Each month, I chose a different theme, conducted research, and displayed information on a Monthly Awareness Board in the secondary building where most of the high school students coould see it. Some board topics this year were HIV and AIDS, gender dysphoria, and pride month.
I've known since the beginning of the year that I wanted to do something Pride related when June came around. However, it was difficult to pinpoint exactly what about Pride month I wanted to talk about. I decided to focus on why Pride month takes place in June, and that lead me to research the Stonewall Riots. The Stonewall Riots, also known as the Stonewall Uprising, began as a police raid on a known gay club in New York City in 1969. This raid led to a six-day protest that resulted in a violent confrontation between the police and protestors.

I was faced with a dilemma because there is so much to talk about with Stonewall, but I had limited space. I wanted to do the topic justice without having too much information crammed onto a small board. Because many horrible events occurred during that time, how gruesome should my details be? There was also the case of whether or not I should l include important figures that spearheaded all the riots? This would include people like Marsha P. Johnson, a transgender woman of color who is credited with throwing the first punch at Stonewall.
In the end, I decided to focus on the bare basics of what Stonewall was and why it occurred. I created a couple of QR codes for people to scan if they want more information. I hope that next year I can continue to expand on this topic so that more people can learn about LGBTQ history.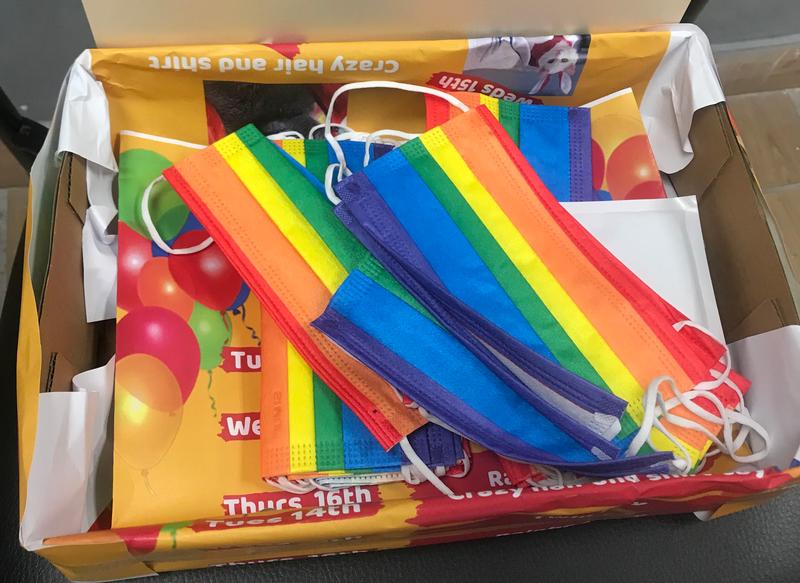 A box of free rainbow masks for people to take and wear as a sign of support. (Photo source: Holly Erwin)
Research and Information:
Why is it in June?
June 28, 1969, New York City: In the early hours of the morning police raided the popular gay bar "The Stonewall Inn." Many patrons fought back which sparked the "Stonewall Riots" which lasted for days afterwards.
This was the catalyst that sparked the gay rights movement in the US
What happened during the Stonewall riots?
While the police were taking patrons out of the bar, the crowd outside became enraged.
In the past, witnesses seeing harassment of the LGBTQ community stood by passively, but during this raid, they jeered at the police.
This escalated to the crowd throwing coins and debris at the police, forcing the officers to barricade in the bar and wait for backup.
Some 400 people rioted that day, and riots continued outside the bar for the next five days
https://www.britannica.com/story/why-is-pride-month-celebrated-in-june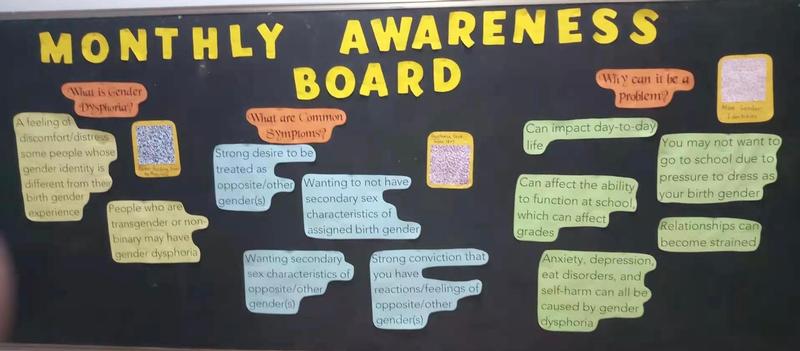 The gender dysphoria board. (Photo source: Holly Erwin)
In March, the topic was gender dysphoria. I chose this issue because there are not many information sessions or resources within our school for topics pertaining to the LGBTQIA+ community. I believe this topic is quite important to kids within secondary schools, as this is a point in our lives when we are generally questioning a lot of things about ourselves. It is important to share information to learn and build understanding and acceptance. I hope by raising awareness about this topic, it may help a student here in the future.
Research and Information:
What is Gender Dysphoria?
The feeling of discomfort or distress that occurs in some people whose gender identity is different from the one they were given at birth
Individuals who are transgender or gender non-conforming (such as non-binary individuals) may experience gender dysphoria
What are the common symptoms?
(In teenagers and adults) for at least 6 months:
A strong desire to be treated as the opposite or another gender(s) from the one assigned at birth
A desire to be rid of secondary sex characterises (or to not develop them in young teenagers)
A desire to have secondary sex characterises of the opposite or another gender(s)
A strong conviction that you have reactions/feelings typically associated with the opposite or another gender(s)
Why is it a problem?
Can impact day-to-day life
May not want to go to school due to pressure to dress as the sex they were assigned at birth
Can also affect the ability to function at school, which can lead to poorer grades.
Relationships can become strained
Anxiety, depression, eating disorders, self-harm, etc can be caused by gender dysphoria
I was able to meet my learning outcomes by undertaking challenges of raising awareness on key issues and developing new skills in the process, like initiating and planning a project all by myself. I was able to engage with global issues and learn more about them while recognizing and considering the ethics of choices and actions. This board was maintained over the course of two years, requiring a certain amount of perseverance. I hope I managed to leave a legacy for students in my school who can continue raising awareness about global issues through this board.
----------------------------------------------------------------------------------
Holly Erwin was a year 12 (DP2) student at Utahloy International School Guangzhou who graduated in May 2022. She will continue her higher studies at York University, Canada.