The school community participating in the "First Five Days" initiative. (Photo source: Lincoln Community School)
--------------------------------------------------------------

Like many schools around the world, as we moved past the depths of the COVID-19 pandemic, of lockdowns and online learning, we knew that the important work of our school community was to focus on a sense of belonging again. Physically and proximally, we were once again together but that did not mean that we were functioning as a community together. We knew that work needed to be done to ensure that each member of our school community felt that all-important sense of belonging. It came as no surprise to any of us, as this is what we (staff, students, and parents) had missed during those long months of lockdown and online learning- that grounding, that secure feeling of belonging to a community.
During the 2021/22 school year, we were intentional about rebuilding a sense of community in all that we did. As the months moved into spring, there was a strong feeling that a focus on belonging was our next important step. We had a vision for what was needed that resonated within all of us; it would serve our purpose and we were ready to move forward. However, as with many great ideas in education, the question pending was what to actually do that would really make a difference and how we would make the most impact. We were aware that the "implementation gap," the distance between what you envision and the actions that end up happening in classrooms, was a possible rabbit hole that we did not want to go down.
Fortunately, along came our friend, Ewan McIntosh, from the educational consultancy NoTosh. He provided just the provocation we needed. His "What if…" question went a little like this, what if you start the year off by scheduling something completely different? And so, our idea became an action to develop a new "First Five Days" program for our 600 students. This way, students and teachers could begin the year focused on getting to know each other, re-learn how to socialize, and ensure that everyone felt as though they belonged to our school community and specifically to their grade level group/community. The idea was straightforward; so why not? What is it that would hold us back from putting this into action? These were good questions to reflect upon.

The school community participating in the "First Five Days" initiative. (Photo source: Lincoln Community School)

Coincidentally, we were also about to move into a new team structure where teachers were to be grouped together according to the students they teach, rather than simply the subject(s) they teach. While this had been commonplace in our elementary school for many years, it was a change for our secondary divisions which had been traditionally grouped according to departments. It would be a perfect first step for the newly formed teams to plan and prepare a five-day program to start the new school year that was solely to embrace a "sense of belonging." Once students had been dismissed, teachers spent the final two days of the 2021/22 school year putting all of their creative energy into a plan. Their stimulus was, what can we do so that students will go home after five days of school and say that they had the best days ever and would be excited to start the school year? And do we have the courage to break the script?



The school community participating in the "First Five Days" initiative. (Photo source: Lincoln Community School)

I am so proud of what our team accomplished. We began the 2022/23 school year with our very own home-grown program entitled "First Five Days." Each grade level, with teachers and assistants, developed and implemented their own program based on their own backgrounds and those of their students. Activities ranged from indoor and outdoor fun experiences focused on team building to getting to know one another to preparing for the year ahead. There was a palatable buzz in the air! Experiences ranged from a cookout and overnight visit to the school grounds to trips to the beach or simple walks in the neighborhood. Many of the sessions were similar to what we may have done before the pandemic; but this time the joy was in the mere opportunity to put them into action and more so, the positive energy of collaboration and being together. Our teaching staff worked collaboratively and communicated well with other grade-level teams, ensuring that there was a fair distribution among our school facilities. They modeled the teamwork that we wanted our students to learn and put into practice. At the end of each day, we met on the school field as an entire school so that students could spend time with their buddies (older students with younger ones) reflecting on the day that had just been. We became a community once more!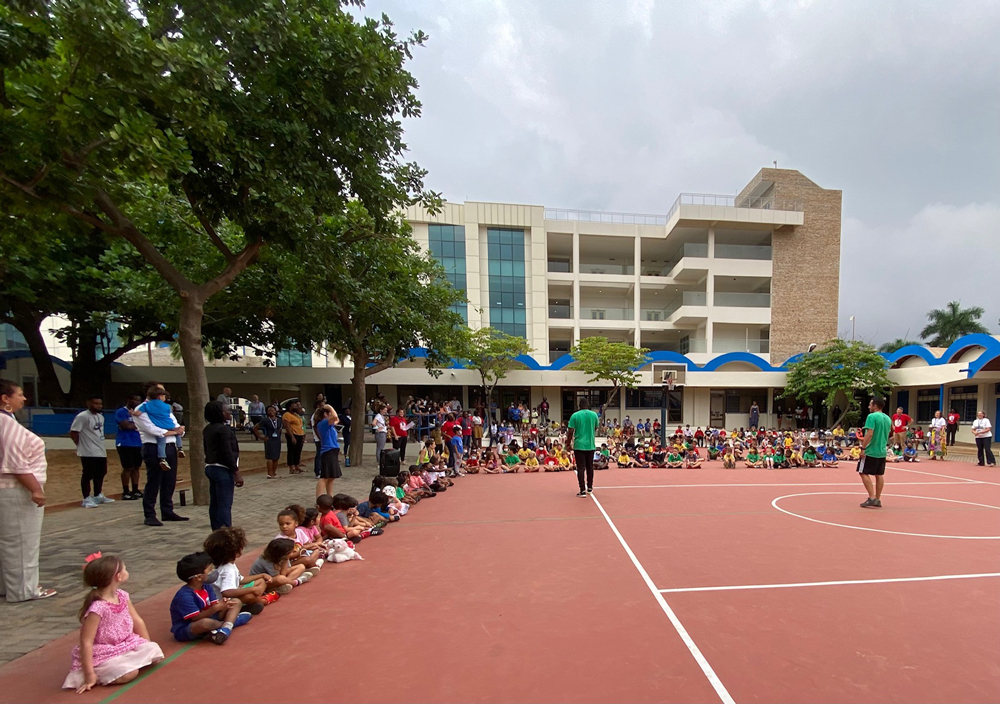 The school community participating in the "First Five Days" initiative. (Photo source: Lincoln Community School)

The week passed quickly and then it was time to focus on schedules and academics and the year of academic learning ahead. The impact of our "First Five Days" lingered over all we began to do, and its significance has been substantial. As we moved through the first semester, repeatedly students mentioned those days in a positive light. Indeed, through both our formal and informal structures of collecting and collating student voices, we have heard that those days are great examples of developing a stronger sense of belonging. A simple idea that has had a sincere impact and one beginning that we will continue to roll out every first five days of every school year.

--------------------------------------------------------------
Lesley is currently the head of school at Lincoln Community School in Accra, Ghana. Originally from New Zealand where she worked as a public school principal, she has now been in the international teaching world for the past 12 years. She is a strong believer in the importance of listening to the many voices in guiding and leading our schools and, along with the team from LCS, is working hard to ensure that this is part of the daily life of the school. Really listening to the thoughts and opinions of staff, students, and parents is fundamental to her work. She is also passionate about ensuring that each student knows and understands how to be a learner, where they are up to in that process, and where they need to go next. However, her definition of learning is not confined to the academic subjects of a school; learning to be a great person who is well and happy, ready to lead the world is also important to her.