Ninth-grade students in SAS's interdisciplinary Pudong Innovation Institute look at a display of novels written by former SAS student and award-winning author Katherine Paterson. (Photo source: Samuel J. Richards)
--------------------------------------------------------------
Award-winning author Katherine Paterson returned to Shanghai American School (SAS) on September 6 to discuss hope and fear, the writing process, and her grade school days in China. Paterson, best known for her Newberry Award winners Bridge to Terabithia and Jacob Have I Loved, joined the morning meeting at SAS's Pudong Innovation Institute (Inno) via video link from her home in Vermont, U.S.A. The alumna author's visit coincided with Grade 9 Inno students' ideation as "publications teams" in a project-based learning (PBL) unit.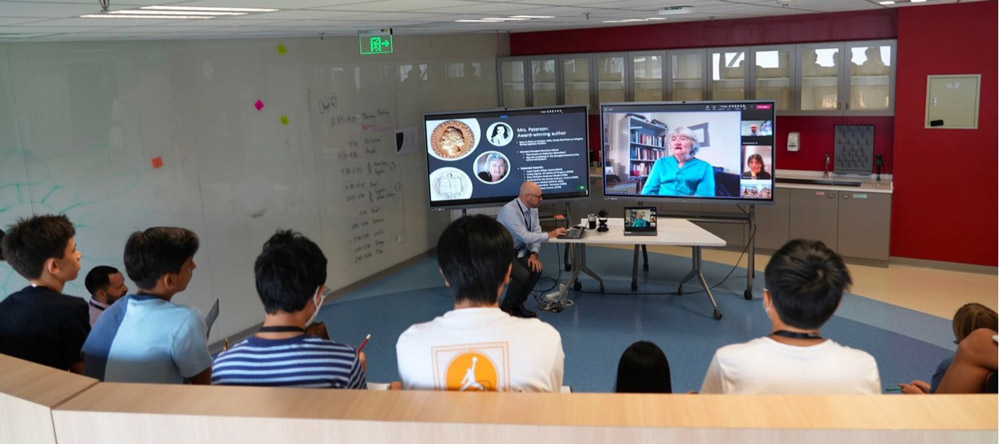 Katherine Paterson answers ninth-grade students' questions during a morning meeting at Shanghai American School's Pudong Innovation Institute. (Photo source: Joyce Siu)
Publications teams were drafting stories and selecting media to tell which is more powerful "hope or fear." Hope and fear formed the unifying conceptual lens linking interdisciplinary studies of short stories in English, world religions in Asian History, atomic properties in science, and risk-taking with the strengths and limitations of various media in Design Technology. Design Technology teacher Alex Braden has helped students investigate media for storytelling including stop motion, sway, children's storybooks, old-time radio, and audio-visual books with narration via reading and song.
Paterson's firsthand experience as a writer helped emphasize authenticity of roles for our unit's PBL task. We have been lucky to host several guest speakers since launching Pudong Inno in August 2021. This has helped validate students' school-based experience with real-world professionals. Having an alumna like Paterson share her experiences was especially insightful.
"Did anyone say when I was seven years old that I was going to be a writer? No," said Paterson. "And, did I think I was going to be a writer? No. I was going to be a reader. I loved to read!"
"The writing process itself is essentially design thinking," according to Inno English teacher Michael Crachiolo.
Paterson's writing process sounded a lot like ideation and prototyping. When one student asked for advice to get a good grade, Paterson reflected on her inner critic. We all hear our inner critic at times, the one that pushes us to edit rather than generate ideas. "I wouldn't worry about your grade. When I first started writing, I thought: who am I to write?" said Paterson. "I've read wonderful books. I know what wonderful writing is. I can't match that. And, I found out that I had to fool the critic inside me. I learned that if I got up very early in the morning, my critic was lazy and would not get up that early. And I thought about it as playing. I was playing with the story, which was great, great freedom to me. Now, later you're going to have to go back and look at it in a more critical fashion, but not in the beginning. When you're first starting to write, think of it as a game. Think of it as just playing with these people, caring about these people, loving these people. Don't worry about that grade. Let the teacher worry about that grade."
Before Paterson's visit, Crachiolo and I both reread (and cried over) some of her novels while gleaning excerpts to use as model texts. In English classes, students used these excerpts to investigate ways Paterson developed complex characters whose actions and thoughts were influenced by religious beliefs without directly stating the character's religion. This also helped reinforce one of our three principles of religious literacy in social studies, religions are embedded in all aspects of culture.
Paterson's professional writing career began with the Presbyterian Church. However, her first published piece was a poem in the SAS school newspaper when she was in second grade. Paterson shared with students that she now looks back and sees ways it mirrored the techniques of Dick and Jane readers of the 1940s.
Recounting her basic poem, Paterson chuckled while telling Inno Grade 9 students that, "right beside it was a letter from Ms. Essex Shields, who was my second-grade teacher, and she said our second graders' work is not up to our [SAS'] usual standards." Those were hard times in Shanghai.
"Living in a dorm was not ideal for families. My brother was in the boys' dorm and my mother, three sisters, and I were in one room in the girls' dorm. It was a hard time for the family so I remember it quite well." Paterson, née Womeldorf, recalls her family having to relocate to SAS due to conflicts between nationalists, communists, and various warlords in the countryside. SAS was then both a day and boarding school. Its dormitories became a place of refuge for a period of time.
As SAS celebrates its 110th anniversary, Paterson's recollections of 1940s Shanghai turned out to unexpectedly foreshadow our final PBL unit of the year asking, "What gets remembered?". In the words of Inno science teacher Erika Trnka, "It was a magical morning at the Pudong Innovation Institute."


---------------------------------------------------------------------------------
Samuel J. Richards teaches history and politics at Shanghai American School in China. He is one of four founding faculty for SAS's Pudong Innovation Institute.