It took me fourteen years of international teaching experience, several pedagogies, and best teaching practices mastered until I scored an interview with one of my dream schools. This recruitment season was particularly tough with all the movements and reconsideration of priorities due to the pandemic. It was game time; the entirety of my vision and teaching journey were all carefully written down on my notecards. I felt equipped yet nervous from the overwhelming pressure of not messing this up. The initial question went smoothly despite the odd dynamics of an online interview which included reading the prompts with a timer and talking to a faceless screen. Midway through, a question popped up, "Why? middle school?" I took a pause and burned down precious seconds from the two-minute mark. It slowly made me realize that I wasn't rooted in my "why" or barely took time to reflect on my purpose deeply. I somehow felt embarrassed that I didn't ask myself all the right questions to prepare and could not articulate why I fell in love with middle school more than any other division.
This time, with the right intention and free from the pressure of a two-minute stopwatch, I wanted to share my "whys" and help other educators further appreciate their long-fulfilling teaching journeys.
First and foremost, it is the ripples that we make every day. As teachers, we do the work that matters by creating a difference in someone's life. The thought that we impact not only their life but everyone influenced by them throughout their entire lifetime is more than enough to keep us going. We speak life into our kids. If we tell them they are smart, they become smart. As coaches, if we tell them they are strong, they become strong. In the classroom, no act or gesture is too small. One-by-one, day by day, we get to remind them of their potential when they can't see it for themselves. These are the ripples we make; this is how to make an ocean rise, leading our students to their highest potential that they don't even know.

The second is overwhelming gratitude. As teachers, we are always on the sideline, advocating for our kids, celebrating their milestones, and happily following their paths to success. Our profession has taught us to be selfless and to put our student's needs above our own. It has taught us to be caring by prioritizing their human needs and caring more about who they are as a person before meeting their academic needs. Furthermore, it also has taught us to be resilient. When working with young people, there are times that you will see the results in 10 seconds, and there are times you won't see them for three years. Either way, we chose to show up for our kids and keep planting those seeds of character, knowing they will somehow bloom. If we're lucky, we get to harvest priceless thank yous when they say, "I won't make it here without your guidance." This is probably my favorite thing about teaching and middle school. As Sean Junkins said, "So often that the students you're trying to inspire are the ones that end up inspiring you." These simple gestures remind us how important it is to continue doing daily self-improvement, which begins from within to serve our kids and their needs better.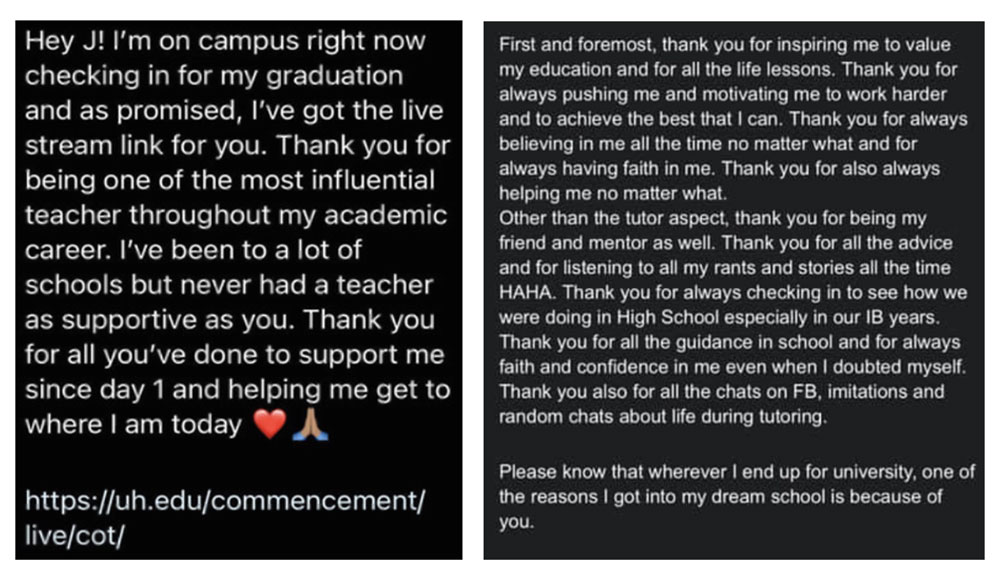 Personal notes received by the author. (Photo source: Jerome Lingo)
Lastly, creating a safe space for our children to thrive and building relationships centered on the culture of care, mutual respect, and compassion transcends into a solid home-school partnership. In this regard, George Couros' words ring true, "A teacher's influence doesn't stay in school. It goes out into the world and cannot truly ever be measured. There is no limit to your impact." Our classroom feels like a second home, and our class resembles a family. This is why I enjoy middle school and teaching in general. The chain of positive influence is limitless. Putting "relationships" at the core of what we do, whether with students or adults, and creating conditions where all learners, not just students, can excel. Although almost impossible, making our role to be second parents seems feasible.
As for my dream school, I didn't make the cut. But I have no regrets knowing I was redirected to something better. When things don't go our way, and we take forced detours as opportunities come and go, may we always be grounded with our "whys" to give us something to hold on to in our redemptive story. In the long run, let's all view this as an invitation to create a narrative from the events of our lives that bring clarity to help us understand how you became you. Facing a closed door, I had a chance to capitalize on taking a moment to reflect on my whys. It helped me further embrace my purpose as an educator and share stories about our profession defined by relationships, gratitude, and care.
---------------------------------------------------------------------------------
Jerome Lingo is a proud Filipino and an international educator at The Hong Kong Academy. Before Hong Kong, he taught in several international schools across the globe, namely, the International School of Manila (Philippines), International School of Tanganyika (Dar es Salaam, Tanzania), American International School of Johannesburg (South Africa), and Academia Cotopaxi (Quito, Ecuador). Jay co-built the first intensive learning support program in South America in Ecuador and had the privilege to present among other educators at the Association of American Schools in South America (AASA) conference in Rio de Janeiro, Brazil. He also serves as the Marketing and Communications Director for SENIA (Special Education Network and Inclusion Association) International, which aims to advocate for and provide resources and support for differently-abled individuals across the globe.
Twitter: @MrJKnows
Website: http://lingojerome.weebly.com/