Arabic class with Miss Rana in action.
---------------------------------------------------------------------------------
"Getting a chance to go back to school has changed my life," says Mariam, a 17-year-old Syrian refugee student from Alsama Project's newly opened second educational institute in Bourj al Barajneh refugee camp.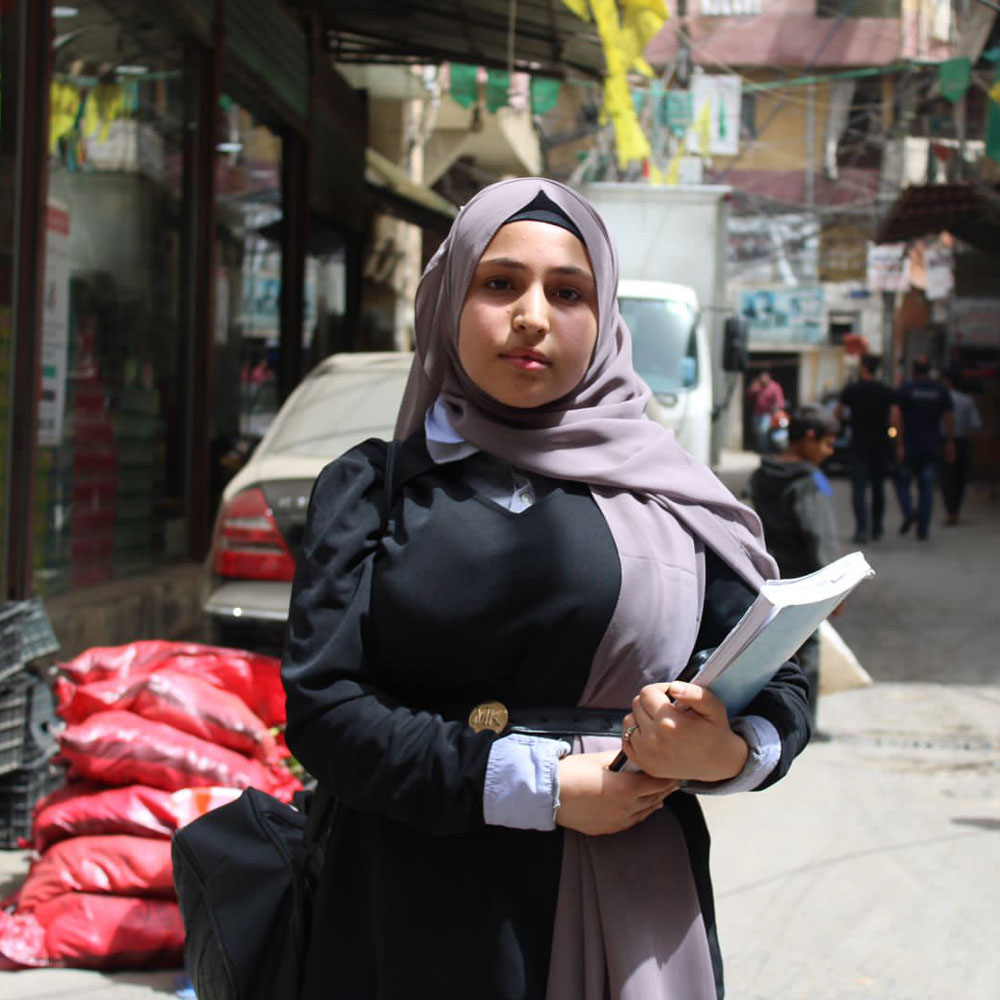 Mariam, a student of Alsama's new secondary school near her house inside the Bourj al-Barajneh camp.
Mariam arrived in Lebanon in 2013 but could not continue her studies due to lack of documentary proof of her previous schooling. She tried working in different jobs as a hairdresser and a beautician but could not find herself. Last year, when she heard about Alsama Project opening a school in the Bourj camp, which is home to nearly 32,000 refugees, she had the hope that her dream of becoming an English short story writer could still be achieved. "I convinced my parents to enroll me at Alsama institute, and since then I have not gone back to work," Mariam shares proudly.
Alsama is offering opportunities to refugee teenagers which they would not otherwise have. It runs education institutes, cricket hubs, vocational training in information technology, and provides employment through its social enterprise, Alsama Studio. Having opened its first secondary school in Shatila refugee camp in 2020, supporting 200 teenagers, the organization has now expanded to the second big refugee camp in Beirut- Bourj al-Barajneh. The organization is in process of scaling and institutionalizing, applying all the best practices learnt from Shatila now in Bourj.
Most of the 600 students that Alsama supports have missed multiple years of education and cannot join Lebanese afternoon schools meant for Syrian refugees because of documentary challenges. For many children in both the camps, Alsama is the first or only source of education they have received in years.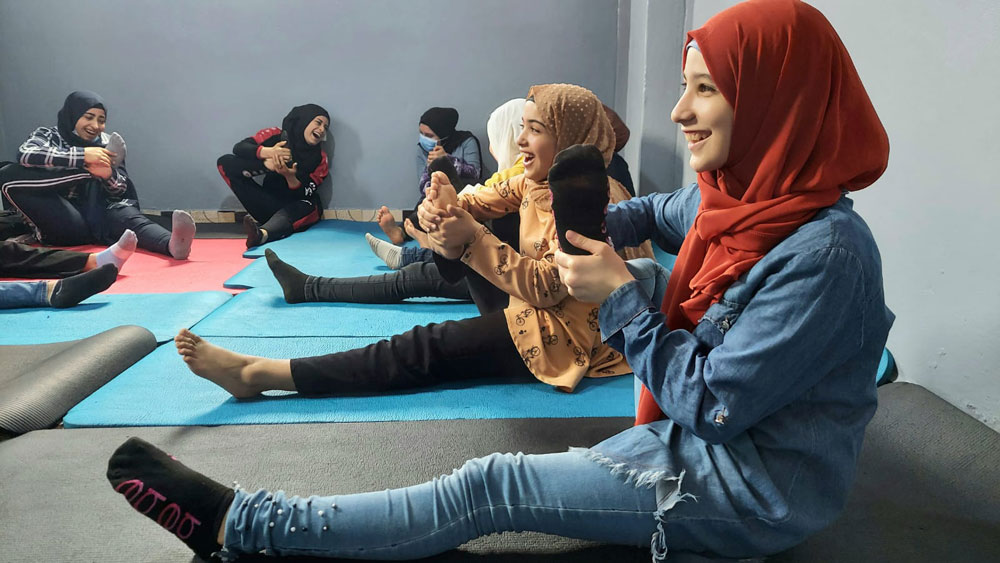 In Bourj, students enact English stories in their yoga lessons to learn new vocabulary in a fun and engaging way.
Given the special circumstances of the students, the classes at Alsama are divided as per ability and not age. The curriculum at Alsama is specially created for teenagers who have missed most of their primary school education and is compatible with the UN Sustainable Development Goals. Students receive Arabic, English, and Math lessons, complemented with yoga and social awareness sessions every week. Amjad Al Hajj, the director of the new Bourj school, explains, "All our lessons are planned with a smart objective which relates to the daily life of our students. For instance, in the second week of May when Lebanon was holding its elections, all our classes went to the polls too. They were learning tally marks and bar graphs through this exercise of electing their class representative. We are not merely teaching theory, but also life skills."
The new school has a new cricket hub too. "Leadership development through cricket is one of the fundamental pillars of our work," explains Abdallah, an Alsama student who is now a fully trained cricket coach and is heading the new Bourj hub with a team of three other student assistant coaches. Every weekend more than 45 players of different age groups train in this hub for six hours. Alsama trains nearly 400 players in nine cricket hubs spread across different refugee camps in Lebanon. For many, the open cricket pitch is a respite from the cramped and dark houses inside a small camp.
With the Bourj school getting more requests for inscription from young boys and girls living in the camp, Alsama's vision is to expand its capacity to accommodate more students. Mariam's teachers say that within one year she has become the best student at the institute and is also training to be a yoga instructor with five other Alsama students. There are many teenagers like Mariam who are out of school and can achieve a lot with a little help.
Please consider supporting Alsama to guarantee quality uninterrupted education for refugee teenagers. https://alsamaproject.com/donations/
---------------------------------------------------------------------------------
Ruqaiya is the Head of Communications at Alsama Project.

Facebook- https://www.facebook.com/AlsamaProject/
Instagram- https://www.instagram.com/alsamaproject/
Twitter- - https://twitter.com/AlsamaProject?ref_src=twsrc%5Egoogle%7Ctwcamp%5Eserp%7Ctwgr%5Eauthor
Linkedin- https://www.linkedin.com/company/alsama-project/