(Published with permission of The American School of Barcelona)
---------------------------------------------------------------------------------
The American School of Barcelona has spent many years supporting refugee crisis issues through its annual student-led event, RefugArt, which combines art and philanthropy to raise awareness of the plight of refugees. This year was more poignant than ever with the current situation in Ukraine. The school's community immediately empathized with the needs of the Ukrainian people and expressed the desire to take action and support them through their efforts.
"Through RefugArt, our students gain experience with social activism, helping them to maximize their potential, be active global citizens, and help transform our world," shared Director Mark Pingitore.
Under the leadership of the school's Head of Community Service, Marta Vernet, RefugArt was founded in 2015 by a small group of high school students determined to get involved, do their part, and turn their emotional empathy into practical action. RefugArt 2022 involved more than 800 students from over 55 different countries, from 3 to 18 years old, who enjoyed a day of activities, knowledge sharing, and fundraising in support of the global plight of refugees. The school also invited parents to join a silent auction and presentation in the afternoon. ASB alumna, Ana Holschuh '16 (Designer, researcher, and illustrator deeply passionate about using community-based design, media, and art to create a positive social impact), was also back on campus to support the event, which raised more than €7000 to directly benefit Ukrainian refugees via the school's collaboration with the United Nations High Commissioner for Refugees (UNHCR).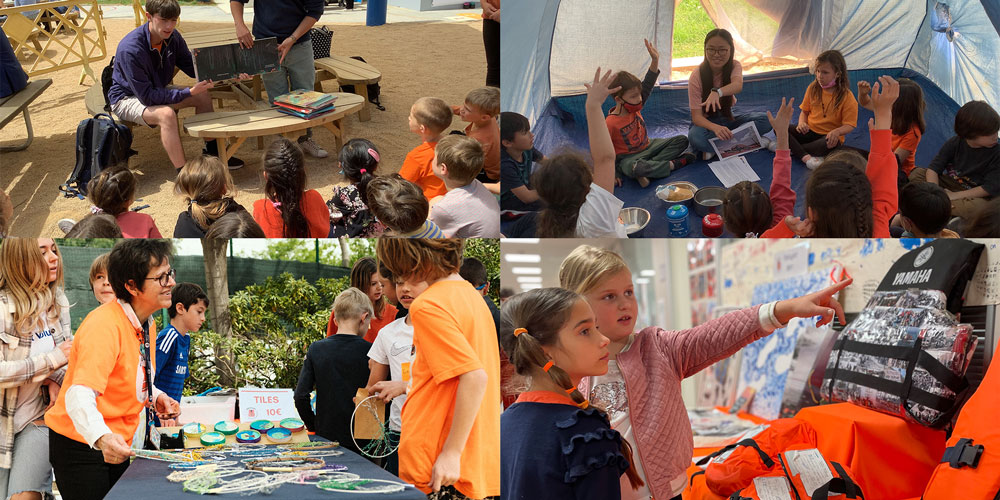 The RefugArt executive committee, comprised of students, faculty, and alumna Ana, worked for months on the event's organization of multiple learning centers, including a UNHCR storytelling tent, walk-through museum, refugee and UNHCR guest speaker session, documentary film, and student artwork displays, to engage and educate students in all divisions. In addition, in the months running up to the event, for the first time IB students from Global Politics, Math, English, and Visual Arts were involved in an interdisciplinary Council for the Advancement of Standards in Higher Education (CAS) project that culminated in the creation of materials used in the RefugArt museum. Students researched refugee facts and stories in Global Politics, created statistics and probabilities related to global migration patterns in Math, transformed data into infographics in English Language and Literature, and beautified the designs in Visual Arts. Finally, the IB Catalan and Spanish students translated the infographics to share with local schools in the community and nationally.
"The refugee crisis has dominated the news for the past few years," shared Ms. Vernet. "It is our role as educators to empower our students to take action through empathy and compassion."
To find out more about RefugArt at The American School of Barcelona, contact Head of Community Relations, Ms. Marta Vernet, at [email protected].
---------------------------------------------------------------------------------
Michelle is the Director of Development at The American School of Barcelona.