Xiamen International School Celebrates 20th Anniversary
By Tamara Studniski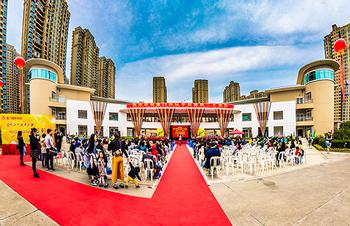 The history of Xiamen International School (XIS) is closely linked with that of industry in the area. In the 1990s, part of the strategic plan to make Xiamen an enticing city for Kodak included establishing both an international school and international medical ward at a city hospital. As a result, XIS become the first international school authorized in Fujian Province by the National Ministry for Education. When XIS's doors first opened to 81 students in 1997, many parents of those enrolled worked for Kodak, as the company had just opened a factory in the city.

XIS continued to expand along with the growth of economic investment in the Special Economic Zone. In 2000, Xi Jinping—then Governor of Fujian Province and current president of China—visited XIS to acknowledge the school's important role in attracting private business to the region. At that time, XIS had 140 students.

After XIS graduated its first class of three students in 2001, the school found it needed a larger space. Consequently, a new purpose-built campus was opened in the present location in 2002. The PYP and MYP programs were authorized in 2004 and in 2006, respectively, and XIS became an authorized IB World School when the DP was added.

A school is more than its campus and curriculum, however—it is, above all, the people involved and the community in which it evolves. After 20 years, XIS has grown to include over 500 students from nearly 40 countries or regions and teachers representing 15 different countries. This year's graduating class is expected to count 18 members. XIS is currently a member of ACAMIS, SCISAC, and EARCOS.

In September 2016, XIS community members had a chance to demonstrate their comradery and resilience. Typhoon Meranti, the strongest typhoon on record to hit Fujian Province, caused the school to close for several days. During the closure, teachers, parents, and administrators rallied together to clean and prepare the space for students—including crawling across the football pitch to pick glass shards out of the grass. The school survived the storm.

The grand celebration of XIS's 20th anniversary included performances by students and speeches by the Director of the Xiamen Education Bureau, as well as by the current head of school, John Godwin. Mr. Godwin, who is retiring this year after having served the school over the course of a decade, encouraged the community to shout "inspirare!" (Latin for ''inspire") and to look forward to the continued development and bright future of XIS.
---
Please fill out the form below if you would like to post a comment on this article:
---
Comments
05/13/2018 - Ms. Studniski
Photo Credit goes to grade 9 student Jordan Lin of Xiamen International School
---