As language teachers, we are always looking for innovative ways to enhance our students' foreign language proficiency. Incorporating social media into language instruction has been found to have several benefits for language learners. Recent studies have shown that social media platforms like Facebook and Twitter can provide linguistic input, informal learning, and opportunities for real-world interaction in the target language.
Broadbridge and Charriau's (2015) study found that Generation Y university students, who have a close relationship with information and communication technologies, frequently use social media for communication. Kim, Park, and Baek (2011) analyzed the use of Twitter in language learning for Korean English as a Foreign Language (EFL) students and discovered that Twitter stimulated learners to promote their foreign language output and maintain social interaction with other users in the target language. Similarly, Swiatek (2013) demonstrated, through a questionnaire distributed among Polish students, that social networking websites like Facebook and Twitter facilitated comprehension of a foreign language. These studies highlight the potential of social media as an effective tool for increasing foreign language proficiency in students. By incorporating social media into language instruction, we can provide our students with opportunities to engage with authentic language input and engage in real-world communication, leading to improved language skills.
Purpose and Uses of Twitter in the Classroom
One platform that can help us achieve these goals is Twitter. Twitter is a social media platform that allows users to share short messages called "tweets," and it can be a valuable resource for language classrooms for several reasons.
Firstly, Twitter provides access to real, authentic language use. Students can read tweets written by native speakers of the target language, which can help them become more familiar with informal language, colloquialisms, and slang. Secondly, Twitter's 280-character limit forces users to express their thoughts succinctly and clearly, allowing language learners to practice reading and understanding concise messages in the target language. Lastly, incorporating Twitter into language classroom activities can be an effective way to supplement traditional language learning materials and expose students to authentic language use, thus improving their language skills and building their confidence (Hamadeh et al. 2020; Wong et al., 2017). These are some of the specific learning outcomes foreign language teachers can aim to achieve:
Introduce new vocabulary
Practice sentence structure
Analyze language use
Cultural exploration
Writing practice
Using Twitter as a tool in the language classroom can help our students become more proficient and confident in their target language. It also provides them with opportunities to interact with the outside world using media. By embracing technology, we can keep our language classroom engaging, relevant, and up to date.
Examples of Twitter in a Spanish Classroom: "Usemos Tuits"
Twitter is an effective tool that can help language teachers bring the outside world into their classrooms. In particular, the social media platform can be a powerful resource for foreign language teachers looking to enhance their students' learning experience. One approach to utilizing Twitter in language classes is incorporating a dedicated section called "Usemos Tuits" (Let's Use Tweets) in every unit. This section allows students to explore different topics through tweets and engage in authentic assessments of their learning.
For example, in the Celebration unit, students explore the pros and cons of bullfighting in Spain by searching for tweets showcasing different opinions. They analyze these tweets, categorizing them into positives and negatives, and then divide them into several learning stations based on student interest to read related articles or listen to audio recordings of people discussing the topic. After analyzing the information and taking notes related to the topic, students respond to their tweets of interest using the notes they had gathered in their stations. These responses are used as authentic assessments of students' learning, which present their learning for an unknown or a private group. Through this activity, students get the satisfaction of communicating with people from other cultures and ways of thinking.
In the Enfermedades unit, prior knowledge investigation is required before using Twitter. For example, students study vocabulary related to body parts and use tweets related to the word "duele" (hurt) to review the vocabulary while practicing identifying problems and recommending medical procedures. They also investigate the Twitter accounts of big pharmaceutical companies such as Pfizer and search for tweets about habits to improve health, which they use to create artifacts such as posters and tweets to give recommendations about good health habits.
In addition to these examples, other units can be expanded to gauge personal interests, such as asking Netflix clients to send in pictures of their holidays so they could suggest TV shows to watch. Moreover, students can use tweets to highlight how women are celebrated and commemorated in the Hispanic world. These approaches help students develop language proficiency and encourage them to delve into the cultural aspects of the language.
Privacy and Security Issues
While teachers can use Twitter as a tool in the classroom to engage students and promote curiosity, it is crucial for teachers to be aware of student privacy and cybersecurity protocols to protect their identities (e.g., not using real names, self-pictures, private information). Before implementing the use of social media in the classroom, teachers should inform parents and have alternative plans for those who do not consent. Make sure you implement this type of activity with students who are 13 years old or older as Twitter requires their users to be that age. One way is to include this practice in the syllabus so that students and parents know of this in advance.
Different Uses of Twitter in the Classroom
Once this privacy hurdle is overcome, teachers can immediately use Twitter to introduce a social/culture related topic, analyze grammar structures, learn idioms, ask/interact with experts, have students share answers to questions about their country/culture (not private), and explore cultural aspects related to the language.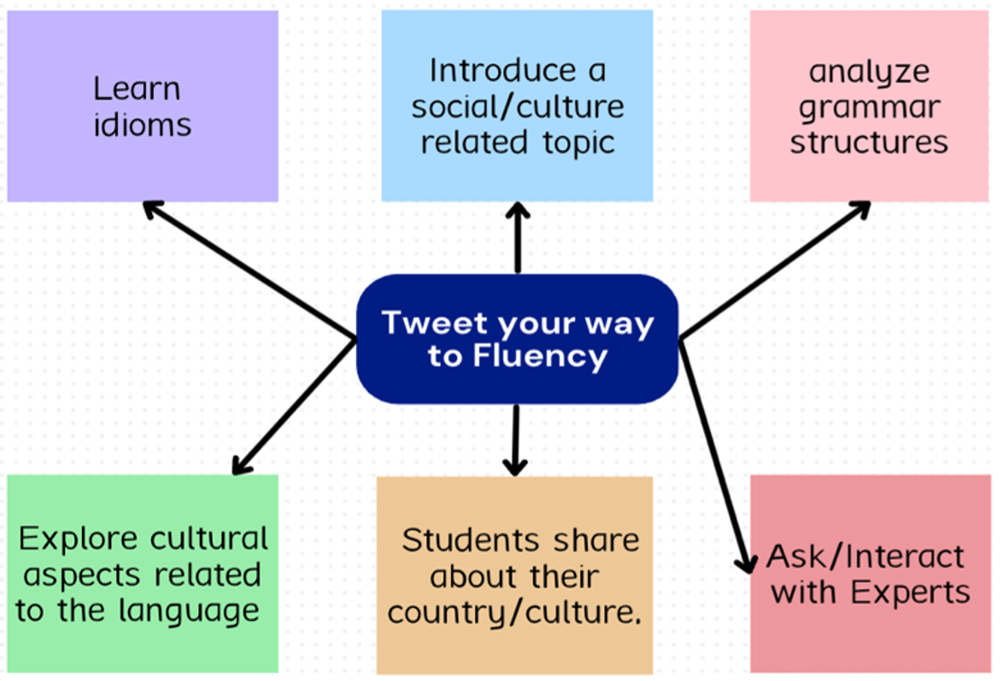 Tweet your way to fluency ideas. (Photo source: Raquel Parra and Yujiro Fujiwara, create on Canva)
Enhancing Language Acquisition With ChatGPT on Twitter
Another current and relevant way to enhance student learning using tweets is to practice their grammar and topic knowledge using ChatGPT in the target language to build up skills. ChatGPT is a large language model that can understand and generate human-like responses in natural language. By incorporating ChatGPT into Twitter-based activities, teachers can enable their students to have more engaging and personalized conversations with experts and peers from around the world. This can help students improve their language skills, develop cross-cultural understanding, and build a global network of connections. So, by combining the use of Twitter and ChatGPT, teachers can take their classrooms to new heights of interactivity and engagement.
Tweets are a powerful and versatile tool that can enhance your foreign language classroom. We presented these examples in the context of a Spanish classroom, but the principles can be expanded to any classroom. With a little creativity, social media (particularly Twitter) can be used to bring cultural and contemporary context into the classroom to keep students engaged in building proficiency in their foreign language acquisition.
References:
Broadbridge, J., & Charriau, V. (2015). Twitter in the classroom: Harnessing social media to enhance second language acquisition. Creative Education, Teaching and Learning: Creativity, Engagement and the Student Experience, 15-26.
Hamadeh, W., Bahous, R., Diab, R., & Nabhani, M. (2020). Using social media to enhance second language learning. Computer-Assisted Language Learning Electronic Journal, 21(2), 132-149.
Kim, E. Y., Park, S. M., & Baek, S. H. (2011). Twitter and implications for its use in EFL learning. Multimedia Assisted Language Learning, 14(2), 113-137.
Swiatek, A. (2013). The impact of online media on second language acquisition byPolish students. US-China foreign language, 11(10), 779-785.
Wong, L. H., Chai, C. S., & Aw, G. P. (2017). Seamless language learning: Second language learning with social media. Comunicar: Revista Científica de Comunicacíon y Educacíon, 25(50), 9-21.
--------------------------------------------------------------
Raquel Parra is a Spanish teacher at Concordia International School in Shanghai. She has been teaching Spanish for over 15 years in both Malaysia and China. She is passionate about teaching Spanish using current and authentic methods to enhance learning and language proficiency.
Dr. Yujiro Fujiwara is an international science, technology, engineering, and math (STEM) educator. He has specialized in curriculum and instruction and is currently the head of STEM/applied technology and high school mathematics at Concordia International School in Shanghai.