Schools are learning communities that are on a journey of continuous improvement, valuing the concept of life-long learning and reflection, and working to improve our pedagogical practices as both individuals and as whole learning communities for the betterment of our learners and their learning growth.
Through accreditation processes such as Western Association of Schools and Colleges (WASC), Council of International Schools (CIS) and International Baccalaureate (IB), schools have developed strategic plans that may span five -10 years, and action plans or short to medium term goals that support the success of these strategic plans.
For us as a school, KIS International School – part of our strategic plan is a focus on Student Programs and Approaches to Learning and Teaching and under this area of focus is one of the short-term goals for us as a PYP Primary school which is to review our mathematics curriculum.
Part of the IB new process for evaluation is the presentation of a Programme Development Plan (PDP). As stated in the document Organizing Programme Development in your school, the Programme development is the "intentional and focused development of the school's IB program(s). Schools engage in a continuous cycle of inquiry, action, and reflection that reflects the school's context and strategic goals. Schools are likely to have multiple program development plans between program evaluations."
As with most schools, we have a number of PDPs that are ongoing. Below are the curriculum-based ones for KIS International school that we are currently focused on:
Whole School:
Global Citizenship
One-School: Building a continuum across the three (soon to be four programs)
Secondary School (MYP & DP):
Approaches to Learning
Feedback to Feedforward
Primary School (PYP)
Math Curriculum Review
Learning Environments
In practice, each of these PDPs should follow an intentional planned process, and although the IB has provided a template for presentation of the PDP, schools do have choice as to how they plan, document, and provide evidence for their PDPs. We as a school have used the template to guide us through our process as we plan forward.
Below I have articulated how we at KIS International School, Bangkok have begun to develop, our PDP for our Primary School focus on Math Curriculum. (Please note this is not IB sanctioned, just an example of how our learning community has begun to plan for our PDP.)
As an International Baccalaureate Educator Network (IBEN) and Evaluation Leader, I also have the benefit and privilege of supporting other schools in the Asia Pacific region as they have gone through their journey and I have been able to learn from these schools, their own process, and been able to bring this back to my school community to support us in our journey. This is one of the elements I have always loved about being part of the PYP and our networks, and how we, as learning communities, continue to learn from each other and sharing best practices so that we can all find success in our journey.
This is one of the documents my IBEN partner (Richel Langit-Dursin) and I developed to help guide us as we were supporting a school through their Evaluation process.
FIRST STEPS
My Math Coordinator and I first sat down and mapped out what we hoped to achieve over the next 18 months. (Extended due to COVID Closures) Through previous experiences, we were aware that a review of a curriculum area often leads to a review of the written curriculum alone and we wanted to ensure that our year of review also included developing a shared understanding of teaching mathematical concepts and thinking skills in the classroom and ensuring a balanced approach to assessment of math throughout the school.

Always keeping our final goals in mind, we articulated what we hoped to achieve by June 2023 ….
And then took our brainstorm and scribble of ideas (or visible thinking) and developed a timeline and articulation of the different focuses as we review our math curriculum (The How, The Who, and The When). Once we had our thinking articulated and scoped out we then turned to the IB documents provided, and those Richel and I created to guide us during Evaluation visits, and co-constructed slides to map out the Standards and Practices (S&P) and guide us as we aligned our thinking to the IB PDP template and process:
The school identified a clear focus and/or clear rationale for program development based on for example, student data, their strategic plan, the authorization report, the evaluation report.
The area of focus is aligned with / attuned to the school's strategic plan
We ensured that our rationale for program development was aligned to our Strategic Plan, our IB PYP Action Plan, and from feedback from our Council of International Schools accreditation processes.
The school clearly identified a question and achievable goal in the area of focus for program development.
The plan clearly outlines the impact the school wishes to achieve and the strategies needed/the activities to undertake/the actions to take to do this. The school team identified a range of resources to support the work.
We then spent time reflecting back on the big picture and organize our initial thinking re: the S&P around the questions asked through the IB template:
What conditions that would be required for success?
Who would be responsible?
How our goals in our PDP would be achieved and evidenced?
And the intended outcomes for this PDP – and Why? What impact would this have on student learning?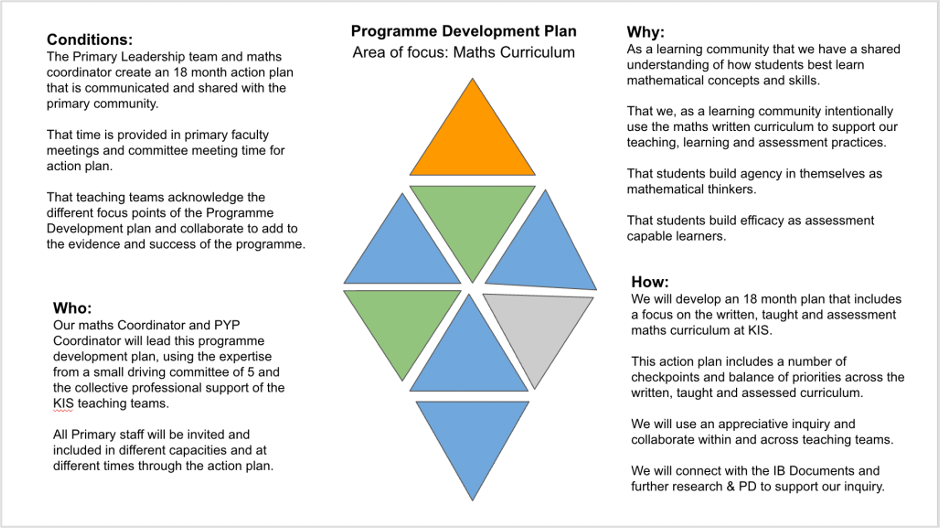 The school chose practices from the different dimensions of the framework to cluster into an area of focus.
The school identified IB practices that supported the achievement of their goal.
We reviewed the IB PSP 2020 and highlighted all the Standards and the guidelines in the Organizing Programme Development and considered all those that may support our PDP.
The school chose practices from the different dimensions of the framework to cluster into an area of focus.
The chosen practices that articulate what the school wants to develop within the program and the impact being sought.
From this we then worked to align both our big picture articulation with the specific Standards and Practices that we had selected/ highlighted S&P under these questions…. (Slides 15-19)
As we go back into Term Two of the 2021 – 2022 year, we are planning for a full back to campus model after 18 months of either Hybrid or Remote learning.
This Programme Development Plan and timeline will be presented to our PYP Primary staff in January, and we will be looking for interest from staff to be part of a committee of five (including the PYP Coordinator and Math Coordinator) that will start to formally review the written curriculum. We will also be seeking interest from members of grade level teams to start thinking about the ways they are using manipulatives in the math classroom and begin to document the use of these across the math strands.
Our other focus from February – June 2021, will be registering our staff for the You Cubed PD sessions which will support a shared understanding on building the foundation of mathematical thinking in our classrooms.
We are at the beginning of this PDP, and have taken time to plan, share, discuss and document to ensure its success over the next 18 months. We will continue to use the IB Documents and reflection document as we make progress, refer to the data collected and adjust, when necessary our plans moving forward.
This is our PDP plan as it stands at the moment – We are at the beginning of this process of continuous improvement. This is ONE way we have found to support our thinking and also ensure the alignment with the IB S&P 2020 and the guidelines provided by the IB for developing a PDP. I do want to thank the PYP schools that have taken those first bold steps and shared and helped us find our way – so far – through this process.
We will be, as a school, moving towards both our CIS and three IB Programme Evaluation in March 2023 and will be presenting to the IB, a PDP as is now the requirement. However, we have agreed to present a whole school plan to the IB and thus will be presenting our PDP on Global Citizenship so that we can ensure members from across our whole school can have the opportunity to be part of this process.
Please do share how your school are planning your PDP and your school have approached this in a different manner so that we can all continue to learn from each other. We look forward to the continuous improvement for the benefit of our learning community and our learners.


Originally Published: Learning to Wear the Big Shoes
---------------------------------------------------------------------------------
Tania is currently the PYP Coordinator at KIS International School, Bangkok. Tania is a PYP practitioner and leader and has worked in IB schools throughout the Asia Pacific region for 20 years.

Tania's blog: Learning to Wear the Big Shoes https://learningtowearthebigshoes.wordpress.com/
Twitter: https://twitter.com/hktans
LinkedIn: https://www.linkedin.com/in/tania-mansfield-8b424534/