Esol Education Opens School in Dubai's Sustainable City
As the first operational Net Zero Energy city in Dubai, The Sustainable City is designed to become an international showcase for sustainable living, work, education, and recreation.
By Meadow Hilley, TIE Editor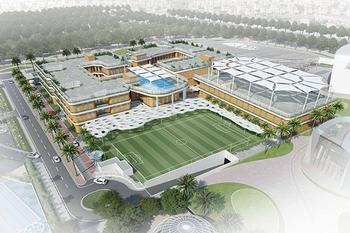 A rendering of Fairgreen International School in Dubai's Sustainable City, which aims to integrate sustainability in all its forms (graphic: Esol).
__________________________________________________________________________

With climate change a looming reality whose devastating effects will alter life as we know it, educating our children for tomorrow means equipping them with the knowledge, tools, and resilience they will need to meet these new challenges head on.

Esol Education's Fairgreen International School was designed with this changing landscape in mind. Situated in the heart of Dubai's Sustainable City, the school embodies in its very structure the principles and practices it seeks to instill among its students.

Making sustainable human settlements was deemed a high priority by the United Nation's member states when they issued a resolution in September 2015 describing 17 sustainable development goals (SDGs) that together will help to create "The Future We Want" as a species.

As Dubai's first operational Net Zero Energy community, the Sustainable City was designed according to the highest environmental performance standards, including 100 percent waste diversion, low carbon building material, and clean mobility solutions powered by solar energy.

Living sustainably does not require residents to forego the societal comforts to which they have grown accustomed, insist the developers who drew up these innovative plans. Conceived to promote sustainable living, working, recreational, and educational conditions, this community will comfortably house a population of 2,700.

A green spine of expansive parks and landscaped open spaces winds its way from one end of the development to the other, connecting 500 villas and centering the community. Urban farms and biodome greenhouses share common ground with a commercial plaza that offers residents a host of dining, shopping, and entertainment options. Surrounding this showcase community, a ring of 2,500 trees form a green buffer zone and means of purifying the air.

In designing a school for the Sustainable City, Esol Education was determined to align theory with practice. While proposing a curriculum focused on integrating environmental, social, and economic approaches to sustainability, Fairgreen International School was built to have a minimal environmental impact. Meeting all its energy needs through solar power, the state-of-the-art campus recycles all its water for agricultural use and implements waste separation.

"The world is changing at such a rapid pace," says Tammam Abushakra, Advisor to the Chairman of Esol Education, which serves over 10,000 students throughout the Middle East and beyond. "Regrettably," he continues, "schools have not always followed suit."

At the forefront of K–12 international education for the past 40 years, Esol Education has a long track record of establishing and operating high-quality, mainly American-curriculum schools. With three more about to open their doors, the organization will be overseeing a total of 11 institutions across Dubai, Abu Dhabi, Hong Kong, Lebanon, Cypres, and Bahrain by the year 2019.

"An organization such as ours has a responsibility to anticipate the changes and new directions that will best serve students going forward," insists Abushakra. "Esol is actively trying to figure out what tomorrow's schools will look like."

Fairgreen is all-IB-curriculum school. When it opens in September, students will experience sustainable living in action and will be encouraged to play a leading role in creating a viable and equitable future for our world. It's a model Abushakra feels is right for today and for future generations, especially in light of the changing nature of the job market.

"Sustainability-themed schools will afford graduates better employment opportunities," he believes. "There are many sectors in the world that are shrinking due to automation. Sustainability is an area in which jobs are actually growing. Achieving environmental sustainability is going to be an increasingly urgent need for humanity in the future."

A second Esol school will open its doors in September. Dunecrest is a K–12 American-curriculum school that will offer an International Baccalaureate Diploma Program for Grades 11 and 12.

Here's to hoping that the years ahead will see the creation of more and more sustainable cities and schools embracing a conscientious and integrative approach to the collective experience by enacting forward-thinking environmental, social, and economic practices.
---
Please fill out the form below if you would like to post a comment on this article:
---
Comments
There are currently no comments posted. Please post one via the form above.