You are here: Home > Online Articles > KINMUN Launches First Model United Nations Conference in Kinshasa, DRC
KINMUN Launches First Model United Nations Conference in Kinshasa, DRC
By Colette Chalier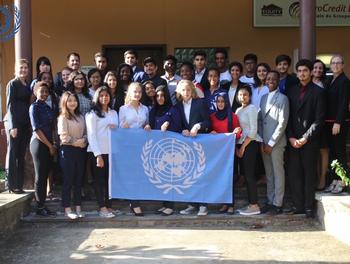 From 24–25 March 2017, The American School of Kinshasa (TASOK) played host to its first ever Model United Nations (MUN) conference. The event was a great success, but it took plenty of focused energy from students and staff to get it off the ground and running, as the Democratic Republic of Congo (DRC) isn't exactly known for its simplicity.

Planting the seeds

It all started last year when a student delegation from TASOK traveled overseas for the first time in the school's history to attend the THIMUN conference in Doha, Qatar. The DRC remains one of the world's least accessible countries. The U.S. State Department website lists the country as a "no travel" zone, and it is far from a tourist destination.

Despite the challenges of traveling overseas from the DRC, for TASOK students to have this opportunity proved invaluable. The THIMUN conference was the perfect training ground, allowing our students to take their MUN skills and ambitions to the next level. I attended the conference along with my colleague Sean Holiday, an African Studies and Economics teacher; together we participated in the the Level I Director Training Institute from BestDelegate. This experience allowed us to finally see how we might work with our student executive to create a genuinely student-run organization. TASOK students were amazed to see their peers from international schools around the world taking on such important leadership roles. Our entire delegation returned to the Congo motivated, energized, and determined to share what we had learned.

Building a program

In August 2016, the wheels were set in motion. We recruited three new MUN Directors and created two tracks for our program at TASOK. The first track provided experienced delegates the intensive training needed to participate in THIMUN-Qatar in January 2017. The second was for beginners participating in MUN for the first time. After a second successful trip to Qatar in January 2017, both Sean and I were confident that, with our Level II Director Training Institute under our belts, we could go forward with our plan to host a local conference. Both Ryan from BestDelegate and Lisa Martin from THIMUN-Qatar were extremely supportive and gave us permission to utilize any resources needed.

We designed a one-day mini-conference for Grades 6–12 on "Child Labor in Less Economically Developed Countries," a relevant and timely topic as the international outcry over child labor in coltan mines in Eastern DRC continues to grow. Our elected student executive team designed a six-week training program pairing experienced students with beginners, in which the teams wrote country profiles, resolutions, and opening speeches, while practicing the implementation of debate rules and procedures.

Hosting the international education community

Two schools each sent a delegation of eager and motivated students: 49 from Jewels International School Kinshasa, 13 from the American International School of Brazzaville. This outside registration for the conference far exceeded our projections, so we quickly opened up a second committee, and our mini-conference ended up offering two separate Commissions for Human Rights.

Our own press team was led by an 11th-grade student with three years' experience on the Press Corps of both the EAMUN conference in Nairobi and the THIMUN conference in Doha. Her team designed t-shirts, added content to the website, filmed video, and created a bulletin board and an Instagram account.

On Friday evening before the conference opened, our students organized a Delegate Training session, followed by a social event, allowing students from the three schools to meet and mingle. The games and mixers planned by the social committee were a highlight of the event for many delegates.

The conference was an astounding success. TASOK's band played a moving musical selection and the Congolese National Anthem at the opening ceremony. Our student Secretary General opened and closed the conference, while student chairs ran both Human Rights Committees. A delegate from each represented country participated in the Parade of Nations, while four delegates presented opening speeches on the topic of child labor. The day flowed smoothly, and the Committees started their sessions promptly after lunch without a single teacher present!

During debate in the afternoon, my co-directors and I held a meeting. Not only were teachers from the other two schools in attendance, but also others from the local (International) French school and Belgian school, as guests. It was a very rare and precious opportunity for the teachers from all five schools to discuss and network in a city where security concerns and traffic issues often keep people and communities feeling isolated.

We now have plans to strengthen collaboration next year through both director and student trainings, culminating in an even larger second annual KINMUN conference to be held in spring 2018.

Colette Chalier is the Secondary IT Teacher, Technology Integration Coordinator, and MUN Director at The American School of Kinshasa, Democratic Republic of Congo.
---
Please fill out the form below if you would like to post a comment on this article:
---
Comments
There are currently no comments posted. Please post one via the form above.