In Memoriam: Paul Olson
Lifelong international educator leaves a legacy of service
By Margie Olson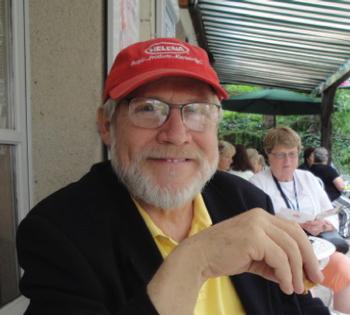 Paul Olson was born on 29 December 1948 to Dr. Clitus Olson and nurse Dorothy Nord Olson. He was the oldest of four children and spent most of his childhood in the Belgian Congo, where his parents were medical missionaries. He learned to speak Lingala and French as a child and loved exploring and learning local customs from his Congolese playmates. In 1967, he graduated from the American School of Kinshasa (TASOK).

Paul attended North Park University in Chicago and graduated magna cum laude in 1971 with a major in Philosophy and a minor in African Studies. As a conscientious objector during the Vietnam War, Paul returned to the Congo where he taught for two years in Congolese secondary schools as his alternative service. It was then that he discovered his passion for teaching. In the summer of 1972, he and two adventurous childhood friends hiked the Ruwenzori Mountains, also known as the Mountains of the Moon, in Eastern Congo.

In 1975, he married Margaret (Margie) Warner, also a teacher. After completing his master's degree in Social Studies Education at Boston University, he and Margie began their adventure together as teachers in international schools overseas. Between 1977–2011, they lived and worked in seven countries in Africa and Latin America, beginning with Tanzania and El Salvador. Always the adventurer, Paul immersed himself in the languages and cultures of each country. He enjoyed both deep sea and fly fishing, kept marine aquariums, owned several boats, and played guitar and sang in musical groups—notably the Cockroaches, the Wellies, and the Tatterdemalians.

From 1987–1992, Paul and Margie returned to the United States to do graduate work at the University of Arizona and fell in love with Tucson. Paul honored his life-long interest in writing by completing his MFA in Fiction. While teaching part time in Tucson public schools, he also completed courses for a school superintendent certification. In May 1991, Paul and Margie welcomed daughter Lena into their family.

Paul was Deputy Director and then Director of international and American schools in Somalia, Rwanda, Brazil, Ethiopia, and Zimbabwe. As an administrator, he was admired for his collaborative leadership style, his recruitment and communication skills, his strong work ethic, and his steadiness in times of crisis. In 1994, Paul received the National Distinguished Principal award from the National Association of Elementary School Principals for his leadership of Kigali International School during the evacuation and subsequent genocide in Rwanda. He also served as a board member of the Association of International Schools in Africa (AISA) for nearly ten years.

After "retirement" in 2011, Paul and Margie returned to Tucson. Not one to sit idle, Paul took on two short-term interim positions: as Secondary Principal at his alma mater, TASOK; and as Interim Director of the International School of Dakar, Senegal. Both schools were happy to have someone with his experience and background to provide stability and guidance.
In 2014, Paul officially retired, intending to spend time traveling, writing, and fishing. Life, however, took a different turn. In his last two years, Paul dealt with heart and liver disease, and finally, bone marrow cancer. He faced these challenges with great dignity and courage, and kept his sense of humor to the end.

Paul is survived by his spouse Margie; daughter Lena; sisters Eleanor Bowman, Barbara Molina, and Joan Harding; five nieces; five nephews; twenty-one great nieces and nephews; and an international family that loved him and will miss him very much.

During retirement, Paul served as a board member of two organizations. The family would be honored by your memorial contributions to either of these groups:

Paul's father was one of the founding professors of medicine at the Université Protestante au Congo. Education Congo supports this and several other Congolese Universities, and provides scholarships for students. To donate to the Olson family's scholarship fund, visit the website www.educationcongo.org. Click "donate" and "donate now." Under "gift information," look for "named fund" and scroll down to select "Olson, Dr. and Mrs. Clitus, MD."

Old Pueblo Trout Unlimited is part of a nationwide organization dedicated to preserving and restoring trout habitat. Donations can be sent to Roseanne Marsett, Treasurer, 5031 N. Calle Tobosa, Tucson, AZ, 85749.
---
Please fill out the form below if you would like to post a comment on this article:
---
Comments
There are currently no comments posted. Please post one via the form above.