American School of Dubai Celebrates 50th Anniversary
By Julia Martinez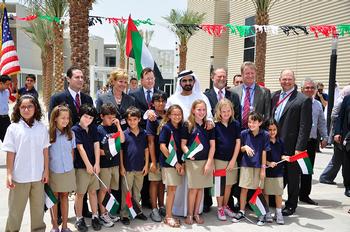 The American School of Dubai (ASD), founded just a few years before the United Arab Emirates' official formation in 1971, is celebrating its 50th anniversary during the 2016–2017 school year. ASD is one of the country's longest-standing not-for-profit educational institutions. The school has become widely recognized for its leadership in the region's education sector while supporting the progression, innovation, diversity, and growth of the U.A.E. over the last five decades.

Under the guidance of the first Ruler of Dubai and U.A.E. Vice President, His Highness Sheikh Rashid bin Saeed Al Maktoum, ASD was founded in September 1966 by the Dubai Petroleum Company as a school for its expatriate staff from the United States. Beginning the first year with 11 students and two teachers, ASD's student body now numbers more than 1,800, representing more than 55 nationalities at its purpose-built, exemplary campus in Dubai.
According to Brent Mutsch, school Superintendent, "ASD's mission is to challenge and inspire our students. Through a vision that has been shaped and enabled by the growth and development of the U.A.E., we strive to create the next generation of passionate learners who contribute to our rapidly changing world."
Chairman of the Board of Trustees Joe Lebrato added, "As we celebrate 50 years of our journey today, the American School of Dubai extends heartfelt thanks to the Vice President and Prime Minister of the U.A.E. and Ruler of Dubai, His Highness Sheikh Mohammed bin Rashid Al Maktoum, and his father His Highness Sheikh Rashid, for their support of our mission to develop the highest quality learning environment for our students."
Today, ASD is a college-preparatory, Pre-K through Grade 12 community school, offering what is best about American education to provide learning experiences designed to maximize students' potential. Milestones from the school's first 50 years include:
1966 – Creation as the Dubai Petroleum American Community School with 11 students.
1973 – New Jumeirah location officially opened by first Ruler of Dubai and U.A.E. Vice President.
1976 – Renamed as the Jumeirah American School (JAS).
1977 – Officially became an international school, enrolling foreign students.
1990 – Secondary program launched, adding one high school grade each year.
1992 – JAS, renamed the American School of Dubai, celebrates its 25th anniversary.
2004 – The government of Dubai, by official decree, makes ASD a not-for-profit school.
2006 – ASD goes wireless and adopts a laptop-based learning environment.
2010 – The new ASD campus in Al Barsha opens.
To celebrate this important anniversary, on 3 November ASD held an on-campus community celebration with musical performances by students, speeches, and video presentations, including the opening of a time capsule created in 1991. The event involved all students, faculty and staff, parents, alumni, and community members. One highlight was when ASD students and the community performed together for the first time a commissioned, 50th anniversary school song and alma mater. The event concluded with celebratory cake and ice cream in honor of ASD's birthday.
Later this year, the American School of Dubai will host a 50th Anniversary Gala fundraising event, as well as an all-alumni reunion weekend (2–4 March, 2017). All JAS and ASD alumni, parents, past parents, faculty, staff, and friends of ASD from around the world are invited to attend.

To learn more about these events, contact Julia Martinez, Director of Advancement at jmartinez@asdubai.org.


---
Please fill out the form below if you would like to post a comment on this article:
---
Comments
There are currently no comments posted. Please post one via the form above.