You are here: Home > Online Articles > New University Destinations of Choice Among International School Students
New University Destinations of Choice Among International School Students
By Anne Keeling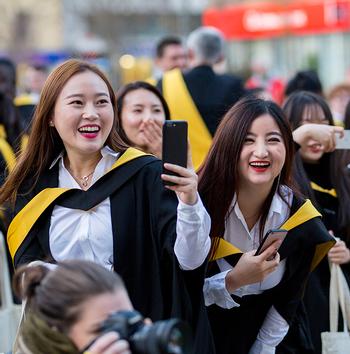 A report just released by ISC Research provides new understanding of the university choices being made by students at international schools. The report, which is free of charge, shares new data on grade averages, undergraduate destinations, and subject selection. It also includes qualitative research into the strategies international schools take to support today's students with their pathway planning and university selection.

The popularity of international schools around the world has grown in large part because of the opportunities they offer to children in preparation for higher education. For today's international school students, as the new report identifies, their choices of university destination are far and wide.

Emerging destinations gain popularity

Although the United States and the United Kingdom remain the two most popular higher education destinations for international school students, more destination countries are emerging, notably those where universities are offering courses delivered in English.

The Netherlands, Canada, Spain, Australia, Germany, Japan, South Korea, and Hong Kong were all cited as destination countries that are becoming increasingly popular higher education destinations among international school students.

Seventy-one percent of respondents in the report said that students at their school considered more destination countries for their undergraduate degrees than in previous years. One respondent said: "There's a big shift from U.K. to Netherlands" and another said: "Applications to Canadian universities increased considerably." Fifty-one percent of respondents said that universities from more countries were promoting their degrees to the school and its students. Another 16 percent said that more of their students were choosing to pursue university choices in countries closer to home than in previous years.

The report highlights a range of factors that influenced the university choices of international school students during the 2018–2019 year and identifies the most popular universities. Based on the results of the responding schools, the top three universities accepted by international school students were University of British Columbia in Canada, University of Toronto in Canada, and University College London (UCL) in England. A number of specialist universities feature in the top 100 university destinations. These include Babson College in the U.S., Delft University of Technology in The Netherlands, and Ecole hôtelière de Lausanne (EHL) in Switzerland.

Among schools, 25 percent said their students were selecting a wider range of degree subjects than in previous years. Accounting, business, and management was the most popular field of study, followed by economics, engineering, politics and international studies, and psychology, with a full breadth of academic disciplines being pursued.

College counselors vital for selection support

Students are being guided and supported in their widening selection of higher education destinations and disciplines by international school college counselors employed by the schools, a cohort of whom participated in qualitative research for the report.

Of all 129 international schools that participated in the research, 84 percent employed at least one full-time dedicated college counselor. Sixty-two percent of all schools had either one or two full-time college counselors, 16 percent had between three and five full-time college counselors, and 5 percent had more than five full-time college counselors. Very few international schools use agents for university counseling, unless the agents are highly specialized and necessary for specific circumstances.

The research identified that most international schools introduce dedicated pathway planning for their students from Grade 10, although some are introducing initiatives from Grade 6 onwards. The report highlights popular strategies their college counselors use to support pathway planning, which include meetings with students, families and/or university officers, conference networking, university fairs, fly-ins, and senior leadership team participation.

As part of the qualitative research, college counselors talked about preparing students for pathway planning from an early age. Johanna Fishbein, Head of University Advising at The United World College of South East Asia in Singapore said: "In Grade 9, our students will have a talk from our VP of Curriculum about which courses they'd be interested in, how they might translate later on to IB or A Level study, depending on what they decide to do, and then in Grade 9, the university advising team meets with students to speak generally about the importance of strengths exploration. We host focused talks where we bring in professionals to talk about their journeys and how they're often not linear but very winding, and we host a big careers fair, which is a huge school-wide effort with our parents' association, our administration, and the university advising team. There's a constant message of the importance of exploring strengths and thinking about what they want to do. In Grade 10, all students and their parents meet with the university advisor to talk about their courses and what that means for university and for different areas of study. But not until Grade 11 do we want them to actually start focusing on a specific university."

Johanna goes on to talk about preparing students for "best fit" university selection: "We'll talk about things like class size, because at our school, in particular, they have tiny classes and tons of engagement with their teacher. So yes, we talk a lot about academic fit, and do you want to be in a class of 1,000 versus a class of 20? We talk about cost quite a bit, to fit within a family's expectation, and we've been talking a lot about employment and the ability to work after graduation. Then we talk about social fit; what is the [university] community going to be like? Is it international?"

Carin D'Souza, Academic and University Counselor at International School Hannover Region in Germany, who was also interviewed as part of the research, commented on "best fit" university selection from the point of view of guiding parents: "In international schools you have people from all over the world, and there are certain cultures where reputation counts much more than other things, but parents are coming to understand the importance of other factors [for university selection]. I've been bringing in alumni to talk to parents, to show different perspectives of what life at university is like and how they found their universities, and I invite alumni from institutions that parents would not think of as valuable or that might be from an applied science institution versus a research institution."

More choice and increasing aspirations impact decisions

The report states that pathway support for international schools is becoming increasingly complex because of the expanding choice of tertiary destinations, subjects, and courses. It highlights how international school college counselors are the conduit between school and university; helping university representatives responsible for undergraduate recruitment and admission to understand the skills, qualifications, and nationalities of its students, and helping the students to understand the offerings of individual universities.

The report concludes that, due to the expanding options for undergraduates and the increasing aspirations of students and their families, ever more intricate "best fit" conversations between college counselors and individual students are necessary in order to increase the potential of degree success.

The new International School Pathways to Higher Education Report is available free from ISC Research which produces market analysis, data and specialist reports on the developing English-medium international schools market for schools, universities, education suppliers, and investors. More information is available from www.iscresearch.com or request the report at enquiries@iscresearch.com.
---
Please fill out the form below if you would like to post a comment on this article:
---
Comments
02/28/2020 - Rob
I have heard from some of my Chinese students that they are now less likely to choose schools in the U.S. because of the widespread xenophobia and racism. Another reason cited is the constant news of gun violence.
This is anecdotal of course, but it would be an interesting area to research. Perhaps it's already being done.
---