You are here: Home > Online Articles > How Wrong We Were: Lessons Learned from the Ghana Model United Nations Experience
How Wrong We Were: Lessons Learned from the Ghana Model United Nations Experience
By Rijul Gupta & Tomas Imparato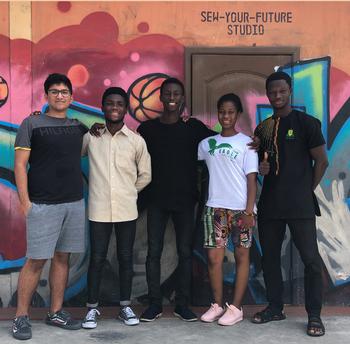 Photo: Rijul Gupta (LCS), with DUNK delegates Alfred Twumasi, Nana Opoku-Agyemang, Deborah Fafali Mensah & Abdul Wahab-Hussein (LCS).
_______________________________________________________________________

Lincoln Community School (LCS), located in Accra Ghana, has a Model United Nations (MUN) program called GHAMUN. It culminates in an annual conference at which teenage delegates from LCS and other schools in Ghana and West Africa have the opportunity to simulate UN-style debate in order to learn about diplomacy, negotiation, international relations, and the challenges facing our global community. And by "other schools" we mean international schools.

Our GHAMUN bylaws are explicit: we have been chartered to foster international mindedness and global awareness; we encourage understanding and tolerance for different cultures, peoples, ideas, and attitudes around the world through discussion and debate; we challenge each other about how to solve major global issues pertaining to nations and communities from different corners of the world; we embrace and promote the UN's Sustainable Development Goals and its commitment to peace, human rights, and collective security. But who's "we," exactly?

When the leadership team debriefed to review lessons learned from our February 2018 GHAMUN conference, we realized that we were seriously missing something. We had been ignoring public schools in Ghana. We never reached out to them. Did we think they were not good enough to participate or maybe not interested? We never even bothered to ask.

To reach out we needed to reach in

We realized that if we only included kids from other international schools, we were in violation of these UN principles and missing a key objective of our mission—namely, to engage with issues of global significance on behalf not only of the school community but also that of interested youth throughout Ghana and West Africa.

Once awake to the oversight, we set out right away to correct it. We reached out to DUNK (Developing Unity, Nurturing Knowledge), a local program in Accra that has been working for years with underprivileged kids in two of the city's poorest neighborhoods.

DUNK's mission is to create safe spaces for at-risk women and children aged 8–19. DUNK provides libraries and sports facilities; they also offer a vocational training program for young mothers. Older students, dubbed "Playmakers," engage in community service and leadership projects.

Through sports and education, participants explore the five pillars of their community: Teamwork, Leadership, Commitment, Respect, and Self-esteem. For example, to participate in basketball, students are required to take part in tutoring sessions and bring satisfactory reports from their schools.

DUNK was doing locally what we were trying to do globally, so they struck us as a perfect partner.

The DUNK/LCS partnership has been developing for many years, though up until now areas of convergence have mainly been related to CAS, sports, and recreational activities. Contacting them to inquire about a new form of collaboration was relatively easy.

We had to reflect on what we were actually trying to achieve. Were we looking for a real partnership with a local organization in which we would make decisions and grow together? Or were we looking for an opportunity to demonstrate some of our humanitarian largess?
These were significant discussions for us as an organization.

We are an extremely well-resourced private international school and funding DUNK's participation would not be an issue. We knew we wanted equal partnership, but we also knew they could not afford the fee. We needed to provide some assistance, but we did not want to look like we were exploiting them. We were also concerned about sustainability; if we started something, could we continue it?

We decided that the chance to collaborate authentically was worth the risk and contacted them about participating in our conference, to which the group happily agreed.

Let's do it! But still some concerns...

The DUNK delegates did not have as much time to prepare for the conference as the other delegates had. They did not have experienced coaches, access to computers, or even a working knowledge of what MUN was. What they did have was a drive and grit forged on the basketball court and in the communities where they lived and served.

We hoped for the best.

On the morning of the conference, we were all nervous. Would they have the right clothes? Would their computers work? Would they embarrass themselves and regret coming? Should we have invited them earlier to give them more time to prepare? Was this a bad idea?

After the opening ceremonies, we all went into our committees to begin work on our resolutions. Then the debate began. In the Human Rights Council, DUNK delegate Alfred Twumasi was recognized to speak on the question of human rights violations of the Rohingya.

We had no idea what to expect and we braced ourselves for an embarrassing moment, the kind you get when a young, inexperienced delegate speaks for the first time.

DUNK showed us how wrong we were

Alfred Twumasi proved us wrong. His intervention was articulate, well-researched, and very much on-point. Our more experienced delegates took notice, as did our chairs.

Alfred Twumasi was not an outlier. Our committee chairs were reporting back very much the same about the DUNK participants in each of their committees. DUNK delegates were engaging in high-level debates, drafting and submitting resolutions, and effectively challenging the points raised by other delegates. This continued for the duration of the conference.

They defied our expectations, shattered our stereotypes, and challenged what we thought we knew about Ghanaian public school students.

After having contacted them to discuss their experiences, we discovered that, for them, this experience was very different than what they were used to and what they'd expected. The students admitted that they were nervous and a little intimidated by the experience. One of their biggest takeaways from GHAMUN was that debate could be more nuanced, open-minded, and research-oriented than the form practiced in their schools, and that the model here considers all sides of an argument instead of just two opposing ones.

Another benefit for the DUNK participants was the boost in their self-esteem as a result of the level of public speaking required from them at GHAMUN.

"Some kids are afraid to say what they think is right," confided Nana Opoku-Agyemang, one of the delegates. Nana, along with other delegates, understood that GHAMUN introduced a more open-minded environment to them, and this inspired them to create their own debate series at DUNK.

Now we will grow together

The DUNK contingent was clearly inspired by GHAMUN. On Ghanaian Independence Day this year, Opoku-Agyemang and other DUNK leaders created a mini-MUN for the younger students at the community center. They were grouped into teams to research the history of Ghanaian Independence, present their findings, and answer questions about them. DUNK leaders hoped that this would introduce young kids to the idea of multi-faceted debate, and they plan on introducing these kids to more global issues going forward.

We invited DUNK delegates to the conference thinking that we would change them. And though we did, to some extent, the DUNK delegates showed a lot of care, diligence, professionalism, and enthusiasm during every aspect of the conference, and their performance changed us.

Their high-energy and laser-sharp focus rubbed off on every delegate in every forum, which in turn improved the quality of debate.

Through real partnership, we discovered the rich potential we tap into by collaborating with students from local institutions who possess a passion to learn and a hunger to work for change.

We realized that, in order to succeed as a global conference, we need to be locally inclusive.
Next year, kids from DUNK and LCS will collaborate to train delegates, enabling DUNK to train their own delegates as more kids participate. The relationship that LCS has now built with DUNK is of the utmost importance to both groups, since we believe that through future affiliation with them, we stay true to the mission of GHAMUN, effectively encouraging awareness, understanding, and—most of all—pushing forward with global engagement in every corner of the world, including Ghana.

http://dunkgrassroots.org

Rijul Gupta and Tomas Imparato are Members of the GHAMUN Secretariat, the leadership team of GHAMUN, and students at Lincoln Community School, Accra, Ghana, West Africa.
---
Please fill out the form below if you would like to post a comment on this article:
---
Comments
10/18/2019 - Mr. Comandari
Great reflection, thanks for the insights.
---