You are here: Home > Online Articles > Lucaya International School Opens After Weathering Dorian
Lucaya International School Opens After Weathering Dorian
Showing resilience and remaining faithful to its mission in the face of devastation, the LIS community seeks to recover, rebuild, and restore a sense of normalcy, even as its members struggle.
By Meadow Dibble, TIE Editor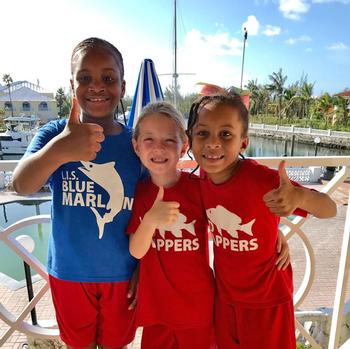 Primary students are excited about being back at Lucaya International School with their friends after Hurricane Dorian
__________________________________________________________________________

Lucaya International School (LIS) had only just opened its doors to usher in a new school year when Hurricane Dorian forced the administration to abruptly slam them shut again and batten down the hatches.

Slowing over Grand Bahama Island, where the school sits on a 12-acre, purpose-built campus near Freeport's southern shore, the strongest hurricane in local memory pummeled the area with sustained winds of 165 mph and unleashed a 23-foot storm surge. At its height, water covered close to 70 percent of the island.

During those interminable hours between Dorian's landfall on 2 September 2019 and its departure a full day later, thousands of homes were destroyed. Authorities caution that the official death toll of 53 is likely to rise sharply, as more than 1,300 residents remain missing.
"I have been through hurricanes before, and some pretty serious ones," recalls Lucaya's Head of School Kathryn Dillette. "This was a totally different storm. I have never ever seen anything like it. Mother Nature sure served us a blow."

Dillette would know. For over two decades, she has called the Bahamas home, serving 15 years as Secretary General of the Bahamas Swimming Federation, then nearly 10 years as Assistant Secretary General of the Bahamas Olympics Committee before assuming the role of Vice Principal at St. Andrew's International School in Nassau.

Dillette was only entering her second year as Head of LIS when Dorian stormed onto the scene. Projecting at once unshakable serenity and a fierce determination to lead her community through this devastating crisis, Dillette has maintained a singular focus, despite suffering her own personal losses.

"Our main focus was to stay true to our mission, which is to provide a rigorous international education program to children on Grand Bahama Island."

But how? Communication systems were down. It was unclear who among her staff and students was still on the island. All but one of the school's nine buildings had been severely damaged by flooding.

Reaching out to experienced colleagues in the international school community, Dillette sought advice about how best to organize her priorities.

Consistently, the response was to reopen as quickly as possible. "We should get our kids back into classes," she recalls them telling her, "in front of familiar teachers and alongside their peers." Restoring normalcy would be key to starting the healing process.

Parents of students enrolled in the International Baccalaureate Diploma Programme (IBDP) were concerned that any lag time in resuming classes would put their children at a serious disadvantage. A week after the hurricane hit, Lucaya's chair of the board opened her home to them, fashioning makeshift classrooms.

"We're at about 98 percent attendance," Dillette reports.

The next challenge was to get the rest of the kids back in class. On Monday 16 September, Year 9, 10, and 11 students filed into the only building on campus that did not experience flooding. The following day, the Early Childhood Department, Primary, and Middle School resumed classes in corporate meeting rooms at the Ocean Reef Yacht Club & Resort, thanks to the generosity of a LIS family.

"It's absolutely incredible to see our students come back," says Dillette. "We told them, you don't have to come in uniform! No problem, just come! And they came. And boy, they were wearing their uniforms and big smiles on their faces."

Dillette has heard some harrowing tales. Many families in the LIS community lost their homes. Some even lost loved ones. Many lost their businesses. There were those trapped in attics for over 30 hours, and those who lost family pets.

Weathering Dorian has been a life-changing experience for every member of Lucaya's small school community, says Dillette. Not one of them hasn't suffered indescribable losses. Yet that hasn't stopped them from putting aside their own concerns to help others in need.

For now, with campus restoration efforts well under way, classes at all levels are taking place on a half-day schedule. Teachers have reported that students are more focused than they've ever seen them.

"Of course, none of them have access to Internet," notes Dillette, with a hint of mirth. "At a very young age these kids are learning that life is fragile and things can change very quickly."

As LIS teachers dig deep to keep their students engaged in learning in spite of these challenging circumstances, Dillette is working to keep them all enrolled at LIS. For the last 15 years, the school has funded a robust scholarship program, underwriting about US$250,000 every year to provide local students with a top-quality international education.

Given that the needs of the community have just grown exponentially, the school will now be looking for help in meeting them.

"We anticipate that meeting tuition demands is going to be a challenge going forward," says Dillette. "So we are reaching out to the international community as well as to our national and regional communities to raise funds so that we can offer much-needed tuition relief to these families."

Crisis has a way of helping people reassess their priorities. Dorian has reinforced Dillette's firm belief that the things that matter most are people and education.

"Education," she insists, "teaching and learning—it isn't about a building."

Leading her community through these challenging times has been a huge learning experience for Dillette herself.

"Nobody could write a policy on how to deal with a crisis like this one. I think when you're faced with these sorts of challenges it comes down to just being empathetic and being there for others. It's about leading from the heart. That's all you can do."

Confident that her community will find a way forward and grow stronger as a result of this tragedy, Dillette finds a silver lining in the resiliency of the human spirit and the beautiful acts of solidarity she has witnessed.

"Times like these, we go right back to basics," she affirms. "In the end our students will benefit."

Asked whether the experience would leave her with valuable advice to pass on to her fellow school leaders, Dillette had this to offer: "Sometimes schools struggle with what it means to embody global citizenship as a community. Well, let me tell you, we are living and breathing it. You really need to be able to roll up your sleeves and do whatever is necessary during challenging times."
---
Please fill out the form below if you would like to post a comment on this article:
---
Comments
10/13/2019 - Dr. C
I am interested in a teaching, guidance or administration at your school. I have worked 37 years in serving American Schools and three year in Cairo Egypt. If you are interested please contact me. I am available as of January . I am so sorry for your difficulties and am interested in helping you recovery.
Dr. Carol Anne Celona
---