You are here: Home > Online Articles > International School Teacher at ASIJ Publishes First Novel
International School Teacher at ASIJ Publishes First Novel
By Ellen Foley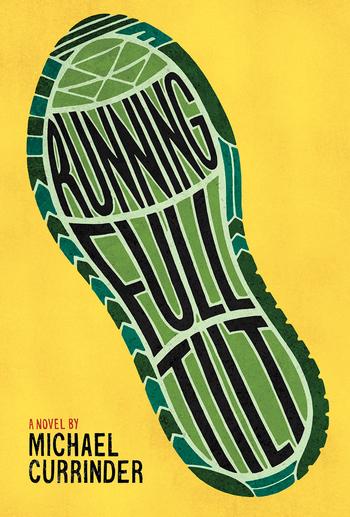 The mystery of what goes on in other peoples' homes never fails to intrigue us, particularly when someone a little bit different goes in and out the door each day. We wonder and muse, and construct some plausible scenarios to explain their mysterious actions.

In his novel Running Full Tilt, Michael Currinder cracks open the door to the Coughlins' home, allowing us a view inside. During this read, we clamber up and down the stairs with our main character, Leo. We examine his unusual older brother Caleb's front yard sculptures, and smile at his fast food ordering technique. We cringe during parent interactions at dinnertime.
As readers, we move to the Coughlins' St. Louis suburban home at just about the same time they do. We are clued-in to the fact that they felt a residential do-over was their best option, having singed most of the goodwill in their previous neighborhood.

Leo's life outside the house includes all the things we want for a high school boy. He builds connections with teachers he likes and a coach who encourages him. He belongs to the cross- country team because an intellectually quirky friend insisted he sign up. Leo has an emerging spirited side. He gets to know Mary, who brings periodic torchlight clarity with her key questions. Over time, we come to know Leo's worries in school life, family life, and his immediate need to handle his very disruptive nightlife.

Caleb has an equally busy, but different sort of teenage life due to his unusual brain. It is not possible for us to know Caleb directly; we need Leo in order to understand both brothers. During our time with this family we start to appreciate the Coughlin parents' sturdy hearts and grow to respect each family member's tenacity. In the course of this story, judgements get milky and compassion expands.

Running Full Tilt is a great read, regardless of who you are, but it offers an additional benefit for the international school community. Families with children of varying cognitive function sometimes don't head overseas or remain there long because home country options may be best suited to ensuring support at school and home. Currinder's book brings a complicated family's life to light, with an opportunity to build compassionate understanding in the expatriate student reader.

As a former international school counselor and avid reader, I would choose Running Full Tilt by Michael Currinder for a book discussion among young adults. Several years ago in Taipei, I had the great pleasure of being part of a writers' group with the author. From an early draft reading I felt the story offered a special view and contained a sensitivity that could be shared and taught.

Running Full Tilt can serve as a wonderful launch pad for student discussions. How are opinions/judgements formed? What makes a personality? If I were in this family what strength would I bring? What struggle would be greatest? These are just a couple of the possible points of departure for what is sure to be an empathy building journey.

Ellen Foley is the Lower School Admissions Director at the Brimmer and May School in Chestnut Hill, Massachusetts. She previously worked as school counselor at Taipei American School and Jakarta Intercultural School.
---
Please fill out the form below if you would like to post a comment on this article:
---
Comments
03/05/2018 - Cindy
Thanks for this great review, it has definitely piqued my curiosity!
This sounds like an intriguing book and even more interesting to know that it was written by an international school teacher! Kudos to Michael Currinder on the publication of his first novel (and finding the time to write it)!
Ordering on Amazon today!
---