UNIS Hanoi Delivers Early Childhood Training Program
By Akofa Wallace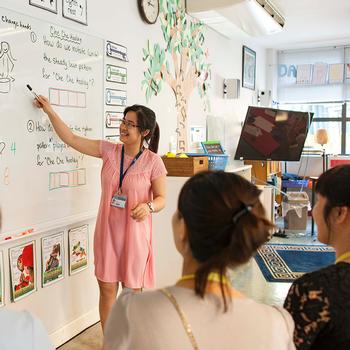 Thousands of young children in Hanoi are benefiting from inspired learning in the classroom thanks to a special partnership between their schools and the United Nations International School, Hanoi (UNIS Hanoi).

Since 1998, as many as 25 different kindergarten schools across Hanoi have taken part in an innovative training program conceived by the Hanoi Department of Education and Training. The program, known as the Early Childhood Education Renovation Program (ECERP), was established in a bid to share UNIS Hanoi's best international teaching practices with local teachers.

And now, as UNIS Hanoi rolls out further training this year, the Head of School says ECERP remains a shining example of the School's deep commitment to Vietnam's national development. Dr. Chip Barder said, "As the Head of School at UNIS Hanoi for the past nine years, I was proud to inherit and grow this program. It has proved to be a hugely successful initiative among our teachers and teachers in our beneficiary schools; not to mention the impact it has made in the lives of young learners. We remain keen to continue serving our community in this way."

Deputy Principal of local kindergarten Truong Mam Non Mai Dich, Ms. Nguyen Thi Le Huyen says the initiative has raised standards at her school. She remarked, "I started at my school ten years ago when it was first built. I remember being a young teacher and being sent to UNIS Hanoi for training. It really introduced me to a new way of teaching and learning. Since then, I have overseen the training of 13 of our teachers who have put into practice what they've learned. We have also attracted more families because the parents know about our partnership with UNIS Hanoi."

Kindergarten teacher Ms. Le Phuong Hang agrees. "We've seen our students excel and our parents comment on it all the time. Our first class of students to benefit from our new way of teaching succeeded in gaining admission to Hanoi's top bilingual primary schools. Because of the UNIS Hanoi training program, our parents know that their children will have the best start in life."

Ms. Tran Bao Ngoc, the ECERP Coordinator at UNIS Hanoi, is responsible for the program, which runs two intensive sessions for nearly 30 local educators each year. She said, "To see the difference we have made in the ten years that I have worked on this program is heartening. At first, most of the schools we were working with had 50 to 60 students in one class with one teacher. Now, our partner schools have reduced their class sizes by half and added teacher support too. School has also become less about the teacher dominating the lessons and more about the child leading the learning. It has been a valuable program for the Hanoi Department of Education and Training, UNIS Hanoi and the schools we work with."

About UNIS Hanoi
Established in 1988, UNIS Hanoi is one of only two United Nations (UN) schools in the world. The school, founded on UN ideals and principles offers the IB program to more than 1,000 students from over 60 different countries.
---
Please fill out the form below if you would like to post a comment on this article:
---
Comments
04/20/2017 - Bernadette Carmody
Congratulation UNIS ... what an excellent example of a way to give back to the nation that has hosted the school since 1988. The example has prompted me to wonder if AIS Guangzhou could follow this lead!
---